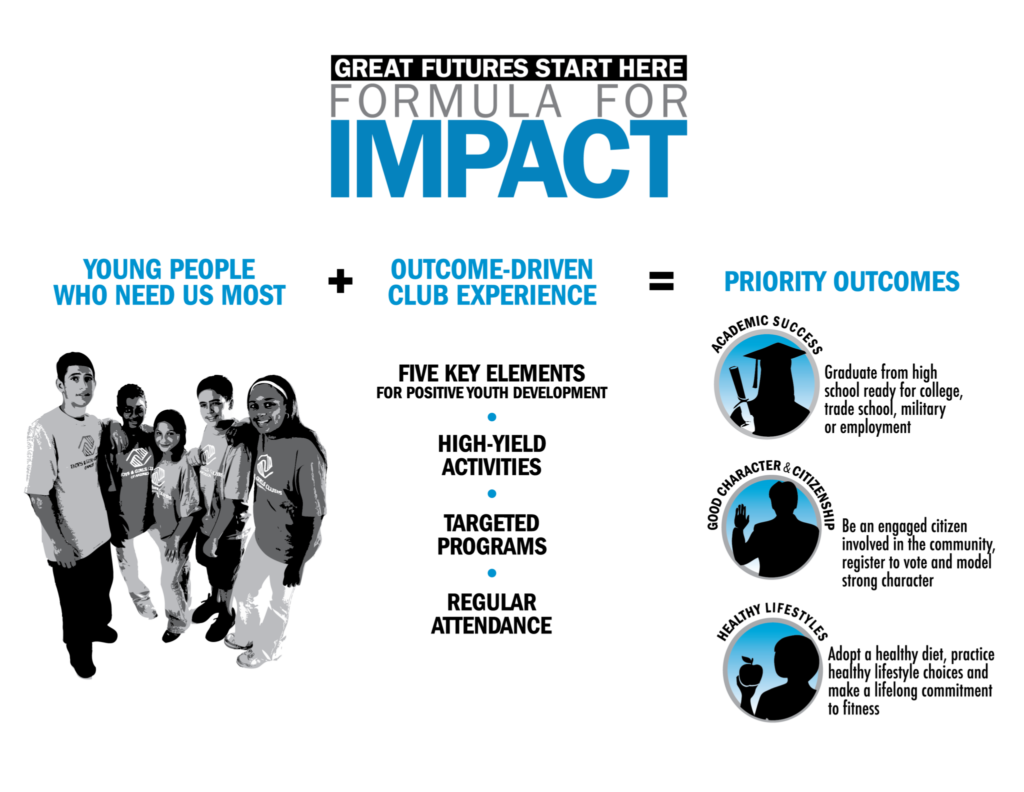 The Boys & Girls Club of America has implemented a Formula for Impact that is a difference-maker. The Formula for Impact is the road map the Boys and Girls Club movement follows to ensure that youth achieve success in the priority outcome areas of Academic Success, Good Character and Citizenship, and Healthy Lifestyles.
It is designed so all Clubs, no matter their size or resources, can partner with youth, parents, schools and other community stakeholders to implement needed programming. All Clubs offer unique programs that promote the positive development of young people by instilling a sense of belonging, a sense of usefulness, a sense of influence or power, and a sense of competence. These are all qualities that enhance our young people's self-esteem, and empower them to reach their full potential.
Academic Success
By 2024, science, technology, engineering and mathematics (STEM) jobs will increase almost 9%, with non-STEM jobs expected to grow just 6%. Currently many students lack the interest or skills to fill these jobs, but the programs that Club can provide to youth can help change that.
In Manitowoc, state test scores are on the decline, up to 500 students are absent on any given day, and graduation rates are below 90%. This is a very critical need in our community.
Good Character and Citizenship
Youth who regularly serve their community are more likely to achieve greater positive outcomes throughout their lives. 70% of Club Members in 12th grade report volunteering at least monthly, compared to 38% of their peers nationally. Clubs also provide ongoing service opportunities for youth to give back to their communities.
Healthy Lifestyles
While many schools only offer students minimal physical education and recess time, Boys & Girls Clubs provide youth with fun, creative ways to get moving. Nearly half (47%) of Club girls in 9th grade exercise daily, compared to 42% of 9th-grade girls nationally; 66% of Club boys in 9th grade are physically active every day versus 58% of their peers nationally.
Clubs also provide youth with healthy snacks and meals each day. When children are hungry or worried about when they will have their next meal, they can't learn. With nearly 6.5 million kids living in food-insecure households across the country, the need for programs after school and during the summer is critical.  For many young people, their last meal of the day is the one they receive at a Boys & Girls Club. In 2017, 90% of Clubs reported serving more than 88 million snacks and meals at no cost to members.